August 20, 2014
Miranda + tumblr text posts
(Source: pethics)
May 22, 2014
Upside Down (2012)
Written & Directed by Juan Diego Solanas
Starring Jim Sturgess, Kirsten Dunst and Timothy Spall 

We are the only known solar system with double gravity. Two twin planets whirling together against one sun. But each with its own and opposite gravity. Now in our world, its possible to fall up and to rise down.

All matter… every single object is pulled by the gravity of the world that it comes from and not the other. An object's weight can be offset using matter from the opposite world. Inverse matter. 
May 4, 2014
1. Women Delivering Ice, 1918

2. Times Square, 1947

3. Portrait Used to Design the Penny. President Lincoln Meets General McClellan – Antietam, Maryland ca September 1862

4. Marilyn Monroe, 1957

5. Newspaper boy Ned Parfett sells copies of the evening paper bearing news of Titanic's sinking the night before. (April 16, 1912)

6. Easter Eggs for Hitler, c 1944-1945

7. Sergeant George Camblair practicing with a gas mask in a smokescreen – Fort Belvoir, Virginia, 1942

8. Helen Keller meeting Charlie Chaplin in 1919

9. Painting WWII Propaganda Posters, Port Washington, New York – 8 July 1942

10. Construction of the Golden Gate Bridge ca 1935

See the rest here: http://noarmycanstopanidea.com/20-historic-black-and-white-pictures-restored-in-color/
(via wikatiepedia)
February 14, 2013
listen, i have loved you for a really long time and… *gets down on one knee* *gets down on two knees* *gets down on all fours* *starts running around pretending to be a dog*
(via blesshercottonsocks)
February 13, 2013
February 9, 2013
Killer Queen - Queen (Isolated Vocals)

fuck. fuck.

Fucking butter.

things that are over: my life and what i originally thought of my voice

i quit

let me go change my underwear…

is this what i hear when i'm entering heaven or 

words… should've sent a poet…
(Source: fuckyeahmercury, via terminalimpacts)
February 7, 2013
January 27, 2013
January 21, 2013
"I have an awful time sitting through one of my pictures," said the famously handsome, famously modest Gary Cooper in August of 1939. "My face looks kind of egg-shaped. And I keep thinking, 'Did I really do that, and if so, why?'"

Cooper seemed to be the only one who couldn't realize the staggering power of his craft on the screen. For everyone else, his rare and extraordinary minimalism in performance was the stuff of magic.

Descriptions trying to pin a tail on this mystic faculty bear an eerie likeness to descriptions that have sought to make sense of the creative architecture of two other peerless motion picture entities, Spencer Tracy and Greta Garbo. The uncommonly different methods of the three greats have a common factor in the breathtaking mystery of just what, exactly, happens between the raw delivery—which impressed other players and set spectators as nothing particularly remarkable or arresting—and the committed footage—which, among the aforesaid three, has the unapproached ability to shatter, inspire, challenge, change, and epitomize the people who see it. 

Ingrid Bergman said of Cooper: "You never noticed that he was working. He spoke quietly, never tried to do an interpretation like Alec Guinness. Instead he did little things with his face and his hands, little things you didn't even know were there until you saw the rushes and realized how tremendously effective he was."

The celebrated Charles Laughton also spoke of Cooper's reticent mastery. "He is acting, you idiot," the English legend once bellowed to a vitriolic Marion Gering—who had bitterly asked if Cooper would 'begin to act'—on the set of the 1932 film Devil and the Deep. "Only you don't see it. The camera does."

Laughton again elucidated his co-star's capacity. "I knew in a flash Gary had something I should never have," he recalled. "It is something pure and he doesn't know it's there. In truth, that boy hasn't the least idea how well he acts."
(Source: deforest)
January 19, 2013
A.F Vandevorst have sculpted a life-size sculpture of a sleeping girl in 250kg of candle wax. 

Over the one month course of the Arnhem Mode Biennale 2011, the candle burnt down day by day, melting and transforming throughout the duration of the exhibition.

(Via)
(via emmtotheatt)
November 15, 2012
October 11, 2012
I love it when the casting directors are brilliant human beings.
So there's a biopic about Alfred Hitchcock that will be coming out this year, titled 'Hitchcock', and it is set to take place during the production of his hit movie, 'Psycho'.
One of the stars from 'Psycho' is Anthony Perkins, a lovely and brilliantly creepy tall drink of water who looks like this:
The casting directors for 'Hitchcock' have cast an actor by the name of James D'Arcy to play Anthony Perkins in the biopic.  This is an image of James D'Arcy as Anthony Perkins on the set: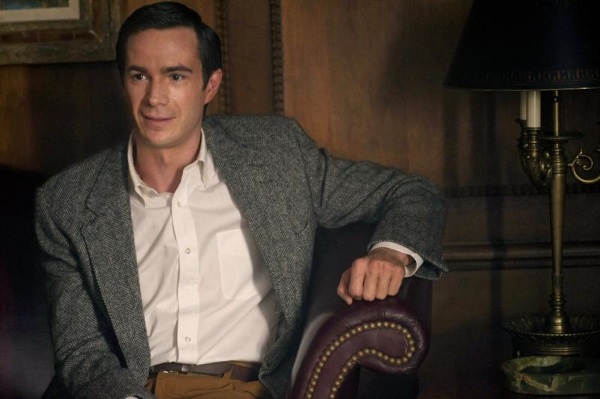 This makes me want to kiss someone.
August 2, 2012
July 17, 2012
(Source: risingicarus, via armihiddlefassybatch)
May 12, 2012
(Source: amysneathxx, via dearlittlelibrarian)